Daily Candy® - Kids San Francisco
link
Ace of Cakes - Sarah Lindsay Cake Decorating Classes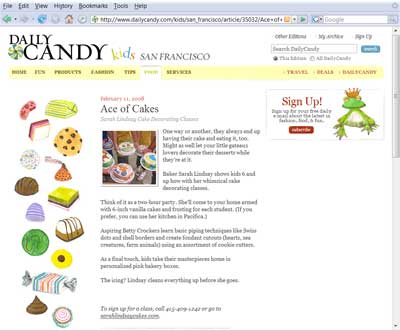 2005 S.F. Pan Pacific Hotel Gingerbread House Contest
CandyLand® - 3rd Prize Professional Division

"Thank you so much for doing an incredible job with our wedding cakes! They not only looked beautiful and elegant, but they were absolutely delicious. We received many, many compliments on all of them from our guests...The Giants cake was very special and perfectly done. Everybody loved it!"
– Tyler (San Francisco)
"Thank you so much for the beautiful San Francisco Theme Cake! It turned out even more intricately and beautifully decorated than I imagined could be possible! You and your assistant must have spent many hours (days) preparing and planning all of the details for the San Francisco Landmarks... The chocolate cake with the vanilla frosting and raspberry filling and fondant was a perfect combination. The cake was not only beautiful, but moist and delicious as well. My Mom loved the cake and all of the party guests gathered around to admire it and take pictures. The restaurant even commented that they had never seen such a detailed cake EVER!!
It was a pleasure to meet with you and get to enjoy your beautiful and artistic cake. You were able to create a beautiful memory for our family."
– Sharon W. (Hawaii)
"Thank you so much for creating such a wonderful birthday party for Claire. She had such a fun time - and it sounds like her friends did as well. Also, I have to tell you that those were the most moist, delicious cakes ever!"
– Christine B. (Atherton)
"I loved our wedding cake, it was exactly what we wanted and we loved the flavors! Phil loved his groomsmen cake! It was so thoughtful of you."
– Phil & Jen (San Francisco)
"The wedding is still surreal to me, especially the cake! It was AMAZING! If there's a word more than amazing, it will be that to describe the cake. It was out of this world! It was as if you made it alive, to see it on paper and then to see it transform into a cake. Thank you sooo very much."
– Alice P. (San Francisco)
"We elected Sarah to bake our wedding cupcakes and bride/groom cake for our October 20, 2007 wedding. From day one, Sarah was personable, professional, organized, and—above all—a creative visionary who perfectly realized our ideas for Autumn-themed cupcakes and a lovebird-themed bride/groom cake. During the initial planning stages, Sarah went out of her way to travel down the Peninsula to meet with us; she listened to our (rather difficult to articulate) ideas for the cupcake and cake decorations and drew some sketches that wholly matched our visions—it was like she could see into our thought processes and knew exactly what we were looking for! ...
In short, we cannot say enough about Sarah Lindsay. She is truly an artisan and we are so happy that we found her for our special day. We give Sarah our highest recommendation and can't wait to sample her work in the future."
– Katie & Ben R. (San Mateo)
"Thank you for the fantastic cake! It was beautiful, delicious, and a huge hit! You're the best."
– Hannah & Travis (Foster City)
"I can't say enough wonderful things about Sarah and her delicious cakes. She is extraordinarily professional and took a lot of time to understand more about my brother and his interests to create a truly customized and mouthwatering dessert for his Farewell to SF/Hello NYC party!
When I received a lovely cake sketch in the mail, I started to understand how much thought and effort she puts into her work. When she arrived and unveiled the cake, with its towering Golden Gate Bridge, NYC skyline, SF Cable Car, NYC Subway cars, and even had my brother's little grey cat was on the top, I knew that this was no ordinary dessert. This fact was certainly not lost on the party's attendees - everyone was talking about this impressive creation!
And the flavor? Rich and delicious. It single-handedly turned my brother's farewell party into an Event! My brother just could not get over it, which was the best part, of course. Working with Sarah was an absolute pleasure and I look forward to doing so again soon. I recommend her without reservation."
– Chris C. (San Francisco)
"I never expected my wedding cake to be so personalized and customized to my taste, so beautiful and affordable at the same time. Sarah's attention to detail and dedication to getting it "perfect" made it a wonderful experience. On the day of the wedding, Sarah and her staff were professional, expert and presented the cake in a seamless way. All of my guests commented on the way the cake tasted and looked - it was beautifully decorated and delicious. I can't wait for a year from now when I can dig into the "anniversary" cake and experience it all over again."
– Dana C. (San Francisco)
"I wanted to surprise my wife by having Sarah create a custom-designed birthday cake. Sarah not only rose to the occasion but far exceeded all expectations. Early in the process, she presented hand-drawn sketches of various concepts, all of which spoke eloquently to the essence of my wife's personality and interests. I was very touched by the level of care and by Sarah's heartfelt committment, to "get it right," to create something that would be really special, memorable and unique for my wife.
The cake was unveiled at a big birthday party for my wife; everyone there was oohing and ahhing, many people took photos, and we all were hesitant to even cut into it, it was so artfully done, so beautifully executed. But after blowing out the candles, we got to enjoy the cake in another completely different way, we not only had our cake -- we got to eat it too! And it was beyond delicious."
– Todd B. (San Francisco)
© 2015 Sarah Lindsay Cakes. All rights reserved.