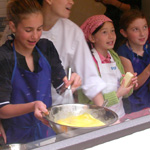 CAKE DECORATING CLASSES
Come express your creativity! Learn to decorate a fun and whimsical cake.
Everyone will get a 6" vanilla cake and will learn basic buttercreaming and piping techniques (swiss dots and shell borders). Cover your cakes with fun fondant cut-outs using an assortment of cookie cutters. Sprinkles included!
Minimum class size is 6
$75 per child; Children under 6 must be accompanied by parent or guardian.
$100 per adult
COOKIE DECORATING CLASSES
Have fun making custom cookies and sharing them with friends and family!
Everyone will be provided with a set of pre-baked sugar cookies to decorate. With the provided colored piping bags, sugar pearls, and small fondant accents, students can create a simple decoration or a beautiful design.
Please inquire for details.
© 2015 Sarah Lindsay Cakes. All rights reserved.