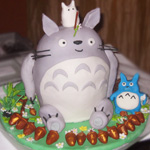 LEARN ABOUT THE CAKE DESIGNER!
As a native San Franciscan, Sarah has grown up to become a foodie. She was exposed to many cuisines at an early age. At the age of 9, Sarah would secretly bake when her mother slipped out for an errand. The first thing she made was banana nut bread.
While studying at Pitzer College, Sarah had the opportunity to open a restaurant on campus. The Mandarin Café was a student run restaurant, serving tapioca "boba" drinks, as well as fried rice and stir fries, mochi ice cream, and noodle bowls. She managed the restaurant for two semesters before returning to home in San Francisco to attend culinary school.
Sarah graduated from Tante Marie's Cooking School's Professional Culinary Program and Professional Pastry Program in San Francisco. Sarah's pastry experience includes working at Lulu and Roy's Hawaiian Fusion Restaurant.
Currently, Sarah is devoted full time to Sarah Lindsay Cakes.
© 2015 Sarah Lindsay Cakes. All rights reserved.